A000066 Arduino Uno Rev3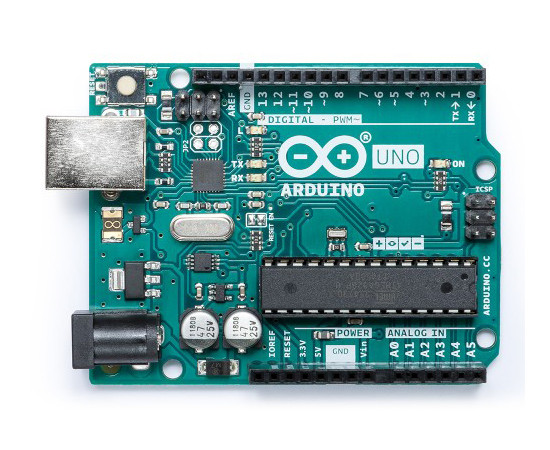 Micros part number: ARDUINO UnoRev3
Package: Rys.ArduinoUnoR3
Arduino module based on the AVR ATmega328P MCU, 68.6×53.4mm, Vin 7÷12V 32kB-FLASH (0.5kB bootloader), 2kB-RAM, 1kB-EE, 16MHz, 5V, 14xI/O (6xPWM), 8A/D
Manufacturer:: ARDUINO Manufacturer part number: A000066 Arduino Uno REV3 RoHS Package: Rys.ArduinoUnoR3 In stock: 3 pcs.
| Quantity | 1+ | 5+ | 10+ | 20+ | 40+ |
| --- | --- | --- | --- | --- | --- |
| Net price (PLN) | 121,0000 | 101,2000 | 96,1200 | 92,3800 | 89,6300 |
Detailed description
Arduino UNO - najlepszy sposób na rozpoczęcie przygody z elektroniką i programowaniem.
Po włosku, a więc w języku ojczyzny Arduino, "uno" znaczy "jeden" i to właśnie ta nazwa została wybrana na potrzeby pierwszej płytki, jaka powstała wraz ze środowiskiem programistycznym Arduino Software IDE w wersji 1.0. Arduino UNO to projekt referencyjny, który na przestrzeni lat ewoluował do obecnej, trzeciej wersji. Stąd w sprzedaży dostępny jest Arduino UNO Rev.3.
Platforma Arduino UNO to najlepsza płytka by zacząć naukę elektroniki i programowania urządzeń. Jeśli użytkownikiem ma być osoba, która chce sprawdzić możliwości Arduino i nie ma jeszcze konkretnych pomysłów na projekt, powinna sięgnąć właśnie po ten model. Jest to zarazem najlepiej udokumentowana płytka, z wykorzystaniem której powstało najwięcej rozwiązań.
Arduino UNO bazuje na mikrokontrolerze ATmega328P. Zawiera wszystko co potrzebne do pracy mikrokontrolera. Wystarczy podłączyć płytkę do komputera przez kabel USB lub zasilić ją za pomocą oddzielnego zasilacza czy baterii. Prace z Arduino UNO można prowadzić bez obaw, gdyż w najgorszym wypadku wystarczy wyjąć procesor z podstawki zamontowanej na płytce i wymienić go na nowy, po czym zacząć od nowa.
Dane techniczne:
| | |
| --- | --- |
| Mikrokontroler | ATmega328P |
| Wykorzystywany poziom napięć | 5 V |
| Zalecane napięcie zasilania | 7 ~ 12 V |
| Dopuszczalne napięcie zasilania | 6 ~ 20 V |
| Cyfrowe wejścia/wyjścia | 14 |
| Wyjścia PWM | 6 |
| Analogowe wejścia | 6 |
| Maksymalny prąd stały dla wejść i wyjść | 20 mA |
| Maksymalny prąd dla wejść i wyjść 3,3 V | 50 mA |
| Pamięć Flash | 32 kB |
| Pamięć Flash dostępna dla użytkownika | 31,5 kB |
| Pamięć SRAM | 2 kB |
| Pamięć EEPROM | 1 kB |
| Taktowanie | 16 MHz |
| Wymiary [mm] | 68,6 x 53,4 |
| Waga | 25 g |