FN 409-6.5-02 SCHAFFNER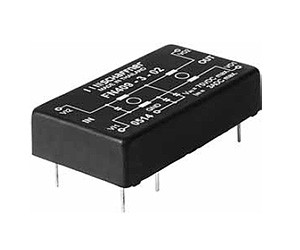 Micros part number: D FN409-6.5-02
Package: Rys.FN409
PCB filters 75V, 6.5A(7A) L:0.5mH Cx:4700nF Cy:4.7nF
Manufacturer::
Manufacturer part number:
Package: Rys.FN409
Detailed description
75VDC Input PCB0 Filter
Technical data:
Rated current: 6.5 A
Rated voltage: 75 VDC
Rated inductance: 0.5 mH(4x)
Capacitance, CX: 4.7 µF
Capacitance, CY: 4.7 nF(2x)
IEC-climate category: 25/100/21
Attenuation @ 150 MHz: 15 dB
Attenuation @ 10 MHz: 60 dB
Test voltage P/N-E: 2000 VDC
Dimensions L x W x H: 50.8 x 27.9 x 11.7 mm
Temperature range: -40...+100 °C
FN 409 PCB filters are designed to surpress common and differential-mode noise on DC voltage lines. The suppression performance is special designed to fulfill the requirements for high frequency switching DC/ DC converter modules. FN 409 filters can also be used to filter the output current of switch-mode power supplies in applications with intelligent power distribution.
Features and benefits:
• High common and differential-mode noise suppression.
• Rated currents up to 13A at 75VDC.
• Small form factor.
• Good thermal conductance.
Typical applications:
Input or output filter for high frequency DC/DC converters
DC output filter for switch-mode power supplies
Computer and office automation equipment
Telecom equipment
Input/output filter within DC power distribution networks