Sport camera SJ7 STAR SJCAM Black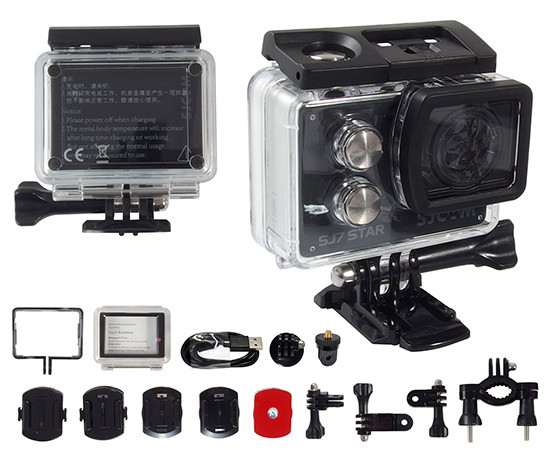 Micros part number: KAM sport.SJ7 STAR Black
Package: SJ7 STAR SJCAM
A12S75; 4k@30FPS; 12MP; 166°; 30m; LCD 2,0"; 1050mAh; WiFi; USB cable; accesories; manual
Manufacturer:: CHINA Manufacturer part number:   Package: SJ7 STAR SJCAM In stock: 2 pcs.
| Quantity | 1+ |
| --- | --- |
| Net price (PLN) | 675,9000 |
Detailed description
Kamera sportowa SJCAM SJ7 STAR to kolejny premierowy model.  Nowością jest wykorzystanie poraz pierwszy aluminiowej obudowy, co przekłada się na jeszcze większą solidność kamery.  Zyskujemy również dodatkową możliwość podłączenia zewnętrznego, dedykowanego mikrofonu. Ale to nie wszystko, możemy również posługiwać się pilotem do szybkiej nawigacji i zdalnego sterowania kamerą.
Kamera pozwala na zapis video w wysokiej rozdzielczości 4K przy 30 klatkach na sekundę. Wszystko dzięki modułom zastosowanym w modelu: chipsecie Ambarella A12S75 i sensorze Sony IMX117.  Model posiada również baterię o zwiększonej pojemności do 1000 mAh.
SJCAM SJ7 STAR posiada równiez duży wyświetlacz  o przekątnej 2.0", który jest dotykowy. Wyświetlacz wykonano z hartowanego szkła. Aby ułatwić zabawę z kamerą i dzielenie się wrażeniami – producent udostępnia równocześnie nową aplikację SJCAM APP, która kompatybilna jest nie tylko z modelem SJ7 STAR – ale również z poprzednimi seriami kamer SJCAM.

Specyfikacja:
Chipset: Ambarella A12S75
Sensor obrazu: 1/2." CMOS 12.40 MP Sony IMX117
Tryb foto: 16 MP
Obiektyw: Szerokokątny 166°
Wyświetlacz: LCD 2.0'' ze szkła hartowanego
Obudowa: Aluminium
Rozdzielczości nagrywania:  
4K: 3840x2160 16:9 30fps;4 K: 3840x2160 16:9 25fps SuperView; 2160P: 2880x2160 4:3 30fps; 2.7K: 2704x2028 4:3 30fps; 2.7K: 2704x1520 16:9 30fps SuperView; 2.7K: 2704x1520 16:9 30fps; 2.5K: 2560x1440 16:9 60/30 fps; 1440P: 1920x1440 4:3 60/30 fps; 1080P: 1920x1080 16:9 60/30 fps SuperView; 1080P: 1920x1080 16:9 120/60/30 fps; 960P: 1280x1080 4:3 120/60/30 fps; 720P: 1280x720 16:9 120/30 fps SuperView; 720P: 1280x720 16:9 200/120/60/30 fps
Rozdzielczości zdjęć:
16M(4608x3456 4:3); 14M(4254x3264 4:3); 12M (4000x3000 4:3); 8.3M(3840x2160 16:9); 5M(2560x1920 4:3); 3M(2048x1536 4:3)
Audio: Wbudowany głośnik i mikrofon mono, możliwość podłączenia dedykowanego mikrofonu SJCAM
Obsługa kart pamięci: Klasa 6+ do 32 GB, Wspiera wybrane karty o pojemnościach 64 i 128 GB
Tryb samochodowy: Tak
Funkcja Time Lapse: Tak
Bateria: 1000 mAh
Format plików:
Video: H.264 MP4
Audio: ACC
Photo: JPEG
Złącza: miniUSB, HDMI, AV
Wymiary: 60mm x 41mm, x 24.7mm
Waga: 0.058 kg bez baterii

Akcesoria w zestawie:
Wodoszczelna obudowa
Plecki
Obudowa ramka
Kabel micro USB
Uchwyt do roweru
2 x Szybkozłączka z taśmą 3M
2 x Szybkozłączka z taśmą 3M i klipsem
2 x śruba mocująca do szybkozłączki
Adapter do statywu 1/4"
Adapter mocujący z gwintem męskim 1/4"
3 przeguby ze śrubami mocującymi
Silikonowa osłonka na obiektyw
Ściereczka z mikrofibry do czyszczenia