XBLITZ Move 4K sport camera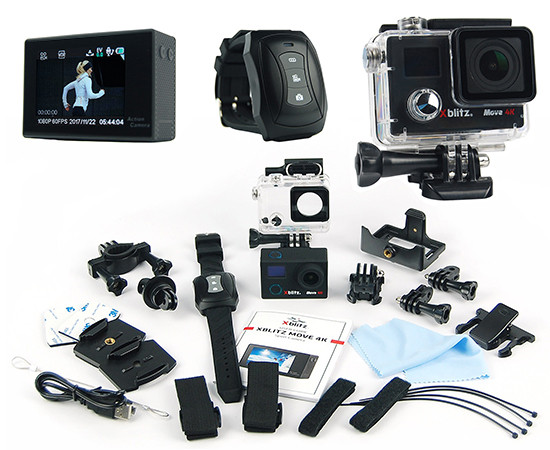 Micros part number: KAM sport.XblitzMove4K
Package: Rys.XblitzMove4K
Sports camera with a double display and a hand-held remote control Angle 170°, Video Resolution: from 720p to 4K, Wi-Fi
Manufacturer:: Xblitz Manufacturer part number:   Package: Rys.XblitzMove4K In stock: 1 pcs.
| Quantity | 1+ | 2+ | 5+ | 10+ | 20+ |
| --- | --- | --- | --- | --- | --- |
| Net price (PLN) | 484,3000 | 447,9000 | 412,7000 | 393,2000 | 378,4000 |
Detailed description
XBLITZ MOVE 4K SPORT CAMERA
Sport camera with dual screen and remote stearing pilot, records with 4k resolution.
XBLITZ MOVE 4K NEW SPORT CAMERA
Xblitz Move 4K is a modern model of a sport camera designed for everyday work for people who are physically active. High quality recordings, epic slowmotion, full waterproofness – that is all you need to keep the most important moments of your life wherever you are and whatever you do.
HIGH PERFORMANCE
The Xblitz Move 4K camera allows you to record images at up to 4K resolution and up to 120 frames per second in FullHD. You can easily record not only dynamic, full of motion shots, but also effective slowmotion.
EVEN BRIGHTER
Pictures in the evening are not a problem anymore. Both the daytime and low light conditions are guaranteed by the modern Sony IMX078 sensor, which performs perfectly in all conditions. Record without a stand and activate the built-in image stabilization at any time.
170° ANGLE SIGHTS MORE
The wide-angle lens covers a large field of view, so you do not have to wonder if there is enough space to capture the entire contents of the desired frame. The wide-angle lens is also ideal for recording a video-blog.
DUAL SCREEN
The main screen with a diagonal of 2 inches allows for convenient framing and, importantly, a review of registered materials. It's definitely easier to record your video with the certainty that the camera records the correct area available all the time in the preview. On the front panel there is an OLED display clearly informing about all modes and time of recording.
FAR FROM HANDS
Recording without touching the Xblitz Move 4K camera is not a problem. Use the supplied waterproof remote control. You can turn the recording on or off at any time, or simply take full control of your sport camera using the phone via wi-fi. This is an extremely helpful tool if you put the camera on a helmet or in a place where we have limited access to it.
WE GOT IT ALL
In the set you will find a complete package of all accessories useful in the installation and everyday use of the camera. From mounting brackets to a water-resistant casing, thanks to which you can record underwater. That's not all, the Xblitz Move 4K is also compatible with the handles and accessories sets of popular sports cameras.
THE SET CONTAINS
1. Xblitz Move 4K camera
2. Waterproof case
3. Remote stearing pilot
4. Tripod frame
5. Bike grip
6. Quick coupling J-HOOK
7. Clips
8. Rotary connector
9. Connector screw X and Y – (2 pcs)
10 Mounting base
11. Mounting base with central thread
12. Steel cable
13. Mounting tapes (2 pcs)
14. Strap with a clip (2 pieces)
15. Velcro strap (2 pieces)
16. Cable ties (4 pcs)
17. Microfibre cloth
18. USB wire
19. User's manual
TECHNICAL SPECIFICATION Model: Xblitz Move 4K
Processor: NTK96660
Sensor: SONY IMX078
Screen: Dual screen 2 inches / 0,66 inch
Battery: 1050mAh (rechangeable)
View angle: 170°
Video resolution: 720p-4K
Photo resolution: 16M
Wi-Fi communication: Yes
Remote stearing pilot: Yes
Memory: microSD memory card up to 256GB capacity
Dimensions: 59 x 41 x 21 mm
Weight: 66,1g (battery included).