RASPBERRY PI CM3 - Compute Module 3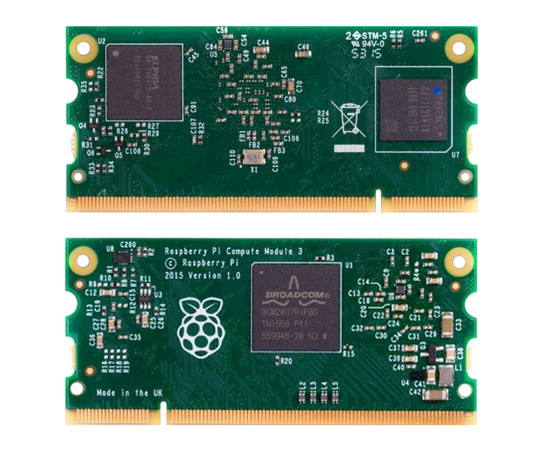 Micros part number: M RASPBERRY-cm3
Package: Rys.RASPBERRY-PI-CM3
Raspberry PI 3 in a flexible form factor for industrial applications, BCM2837 CPU 1.2GHz, ARM Cortex-A53 core, 1GB RAM, 4GB eMMC, 67.6×31mm
Manufacturer::
Manufacturer part number:
Package: Rys.RASPBERRY-PI-CM3
Detailed description
Moduł obliczeniowy Raspberry Pi CM3 - Compute Module 3 to miniaturowa wersja komputera Raspberry Pi 3 przeznaczona do zastosowań przemysłowych.
Raspberry Pi CM3 zawiera kluczowe jednostki komputera Raspberry Pi 3 (procesor BCM2837 taktowany zegarem 1.2GHz i 1 GB pamięci RAM), a także pamięć Flash eMMC 4 GB (odpowiednik karty SD w Raspberry Pi). Pi 3 działa z prędkością około 10 razy szybszą niż Pi 1 ze względu na czterordzeniowy procesor. Wszystko to jest zintegrowane na małej płytce o wymiarach 67,6 mm x 31 mm, która pasuje do standardowego złącza DDR2 SODIMM. Jest to ten sam typ złącza, co używany w pamięciach do laptopa. Pamięć Flash jest podłączona bezpośrednio do procesora, zaś pozostałe interfejsy procesora są dostępne dla użytkownika poprzez piny złącza.
Urządzenia peryferyjne:
48x GPIO
2x I2C
2x SPI
2x UART
2x SD / SDIO
1x HDMI 1.3a
1x USB2 HOST / OTG
1x DPI
1x interfejs NAND (SMI)
1x 4-liniowy interfejs kamery CSI
1x 2-liniowy interfejs kamery CSI
1x 4-liniowy interfejs wyświetlacza DSI
1x 2-liniowy interfejs wyświetlacza DSI