RASPBERRY PI CM3+/LITE - Compute Module 3+ Lite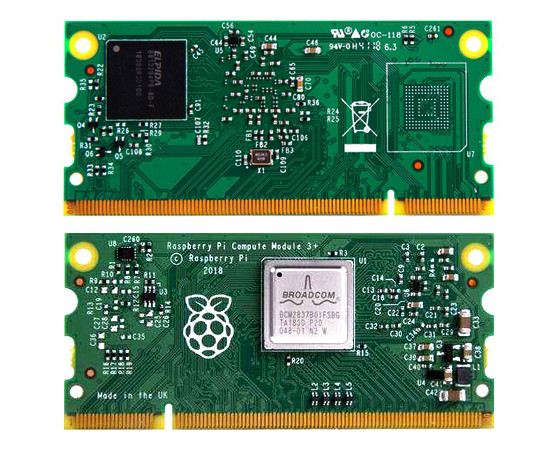 Micros part number: M RASPBERRY-cm3+/lite
Package: Rys.RASPBERRY-PI-CM3
Raspberry PI 3+ in a flexible form factor for industrial applications, BCM2837 CPU 1.2GHz, ARM Cortex-A53 core, 1GB RAM, 67.6×31mm
Manufacturer::
Manufacturer part number:
Package: Rys.RASPBERRY-PI-CM3
Detailed description
Moduł obliczeniowy Raspberry Pi CM3+ - Compute Module 3+ to miniaturowa wersja komputera Raspberry Pi 3 Model B+ przeznaczona do zastosowań przemysłowych.
Raspberry Pi CM3+ zawiera kluczowe jednostki komputera Raspberry Pi 3 Model B+ (procesor BCM2837 taktowany zegarem 1.2GHz i 1 GB pamięci RAM), a także opcjonalnie pamięć eMMC Flash o pojemności 8 GB, 16 GB lub 32 GB (odpowiednik karty SD w Pi). Wersja Lite nie zawiera pamięci eMMC Flash. Wszystko to jest zintegrowane na małej płytce o wymiarach 67,6 mm x 31 mm, która pasuje do standardowego złącza DDR2 SODIMM. Jest to ten sam typ złącza, co używany do pamięci laptopa. Pamięć Flash jest podłączona bezpośrednio do procesora, zaś pozostałe interfejsy procesora są dostępne dla użytkownika poprzez piny złącza.
Urządzenia peryferyjne:
48x GPIO
2x I2C
2x SPI
2x UART
2x SD / SDIO
1x HDMI 1.3a
1x USB2 HOST / OTG
1x DPI
1x interfejs NAND (SMI)
1x 4-liniowy interfejs kamery CSI
1x 2-liniowy interfejs kamery CSI
1x 4-liniowy interfejs wyświetlacza DSI
1x 2-liniowy interfejs wyświetlacza DSI